Metals USA carries carbon steel rebar in grades 40 and 60 both bare and also epoxy coated, along with A706 weldable rebar for any of your construction needs.
Structural steel rebar is an integral part of concrete construction. The term 'rebar' refers to the reinforcing bars used within concrete columns, beams, and decks. Because concrete is very strong in resisting compressive forces but weak in tensile strength, steel rebars are integrated into the concrete to improve tensile strength.
Rebar Markings
Markings on the rebar will indicate a standard set of information; production location, size, type and grade.
Production mill: Location where the rebar was produced
Size: Number sizes indicate rebar thickness (see chart below)
Carbon Steel Rebar
Commonly known as black bar, or bare steel rebar, carbon steel rebar is used on almost all major construction projects. While the biggest weakness of black rebar is its tendency to corrode over time, bare steel rebar is usually the best available choice with respect to its value/tensile strength ratio.
Epoxy-Coated Rebar
Epoxy-coated rebar is black rebar with an epoxy coat. It has the same tensile strength as black rebar, but is up to 1,700 times more corrosion-resistant. It's important to note that the epoxy coating is very delicate, and precautions should be made in storage and installation. Applied anywhere concrete is subjected to corrosive conditions, such as exposure to de-icing salts or marine environments, epoxy-coated rebar is employed in bridges, parking structures, pavement, marine structures, and more.
A706 Weldable Rebar
Material with a carbon-equivalent of less than 0.55 can be welded, and the only rebar that is ready to weld is W grade (low alloy A706). A706 rebar is produced to meet this specification, and allows workers in the field to weld reinforcing systems together. Commonly used for bent caps, footings, joints, and oversized shafts, A706 is an industry standard for many types of concrete construction applications.
Grades: Rebar is graded according to its tensile strength, and the numbers associated with the different grades are used to indicate pounds per square inch. Grade 33 is the lowest strength and has a minimum yield strength of 33,000 PSI, grade 40 has a minimum yield strength of 40,000 PSI and a minimum tensile strength of 60,000 PSI, and grade 60 rebar has a minimum yield strength of 60,000 PSI and a minimum tensile strength of 90,000 PSI.
Metals USA offers a wide selection of Grade 40 Rebar and Grade 60 Rebar.
Rebar Lengths: Metals USA stocks standard lengths of rebar which are available in 20 foot and 40 foot lengths.
If you need structural steel rebar, Metals USA is your best choice for a reliable steel supplier. Metals USA and its shared network of inventory and processing capabilities located at strategic locations across the country can assist your project anywhere necessary. Please contact one of our sales representatives to see how we can help you with your next job.











Locations
Click a location listed below the map for contact information.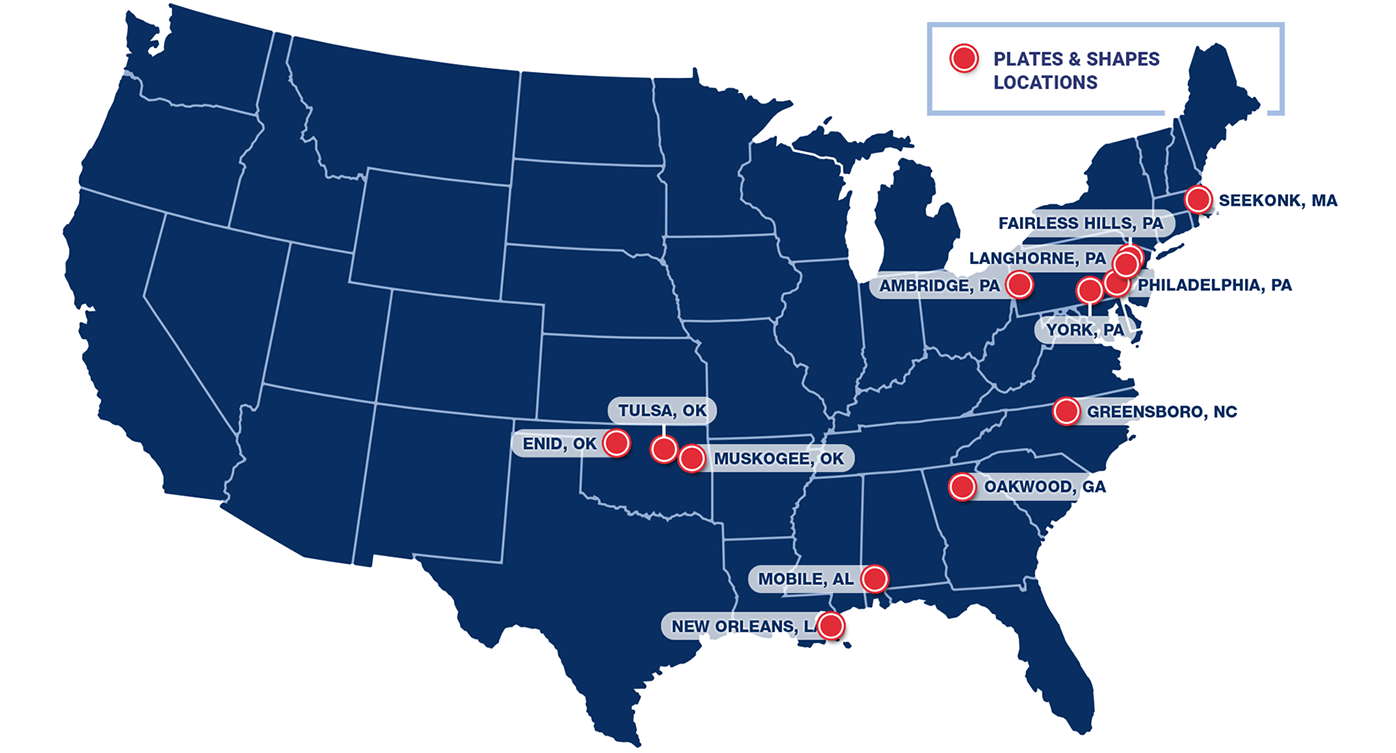 Need More Information?
Our expert professionals will show you how we can partner with your organization to get better results. Tell us about your opportunity and let us show you how we Exceed Expectations.