Metals USA is a leading steel service center providing structural steel products and processing services to serve a wide range of industries. Most industrial and manufacturing projects use steel plate and sheet as the raw stock. Whether it involves A36 plate, A572 plate, PVQ plate, commercial quality (CQ) steel sheets, high strength steel plate, armor plate, stainless steel plate, aluminum, and more, Metals USA steel distributors are prepared to meet all your metal supply and service needs.
Metals USA is a leading steel service center providing structural steel products and processing services that serve a wide range of industries. Whether your project requires steel in grades A36, A572, Pressure Vessel Quality A516, AR400/500 armor plate, commercial quality steel sheets, high strength steel plate, or aluminum and stainless steel, Metals USA steel distributors are prepared to meet all of your metal supply and service needs.
Learn more about our specific plate and sheet product offerings below:
ASTM A36 STEEL PLATE: A36 is designated by the American Society for Testing Materials (ASTM). 'A' indicates ferrous metal, and '36' refers to its 36,000 PSI minimum yield strength. ASTM A36 is widely used throughout modern industry and manufacturing, and is often the preferred choice for bolted, riveted, or welded construction projects such as bridges, buildings, and oil rigs. It is also used in forming tanks, bins, bearing plates, fixtures, rings, automotive and agricultural equipment, and many types of machine parts.
ASTM A572 STEEL PLATE: A572 is a high strength low alloy (HSLA) steel that is often used as an upgrade to A36 and other lower-strength steels where greater strength and material efficiency is required. Employed across the entire spectrum of commercial and industrial applications, A572 has a 50 ksi yield strength and a 65 ksi tensile strength. Its material properties allow for thinner profiles and cross sections where desired.
ASTM A516 PVQ PLATE: PVQ steel plate, also known as pressure vessel quality steel, is used in specific applications where resistance to high pressure forces from gas or other pressure- sensitive materials is critical. Metals USA offers a wide selection of pressure vessel quality (PVQ) steel sheets and PVQ plate to address these engineering challenges.
HIGH STRENGTH LOW ALLOY STEEL PLATE: HSLA steel, also known as high-strength low alloy steel plate, is employed in applications where advanced levels of structural performance are necessary. Metals USA carries a wide selection of high strength steel plate to meet most structural specifications.
AR400/AR500 ARMOR PLATE: Armor plate, also known as ballistic steel plate or protection steel, is made of hardened martensitic steel engineered to resist forces from detonation and explosive forces. In addition to its resistance to high impact stress, heat-treated, high-hardened armor steel plate also demonstrates excellent wear resistance. Widely used throughout the defense industry, armor plate is often used for civilian applications such as cash-in-transit vehicles, vaults, bank counters, security doors, security booths, and more.
HOT ROLLED PICKLED AND OILED (HRPO) STEEL SHEETS: HRPO steel is processed with an acid solution to remove scaling, stains, and rust. Dipping the steel into tanks of hydrochloric acid– a technique called pickling – causes a reaction that eliminates these contaminants. A thin film of oil is applied after the acid is rinsed off and the steel dried. Pickling and oiling hot-rolled steel makes it more durable, malleable, and cleaner to paint. HRPO is often used in fabrication projects where mechanical processes are required, from simple bends to complex draws, or in structural applications where the finished product must achieve a specified strength. Hot rolled pickled and oiled steel is used for a wide range of applications, including tubing, Industrial storage racks, automotive stampings, air compressor housings, agricultural equipment, tanks, light poles, guardrails, and more.
COLD ROLLED (CR) STEEL SHEETS: Cold rolled (CR) steel sheets are made from a hot-rolled sheet, and additional processes such as pickling, cold reduction, annealing, and temper rolling are used to enhance specific mechanical properties, surface finish, gauge tolerance, and strip shape. cold rolled (CR) steel sheets come in a variety of surface finishes, strength levels, and chemistries.
COMMERCIAL QUALITY (CQ) STEEL SHEETS: Often used in simple bending or moderate drawing operations, stamping, punching, and general manufacturing, commercial quality (CQ) steel sheet is available in a wide variety of thicknesses and sizes.
STAINLESS STEEL PLATE: Widely used in applications where a clean, attractive, and corrosion resistant finish is desired, stainless steel plate is often the preferred option for airports, hotels, and industrial construction projects.
ALUMINUM PLATE: Aluminum is highly prized for its excellent strength-to-weight ratio, its thermal performance, and its corrosion resistance.
If you need steel plate & sheet, Metals USA is your best choice for a reliable steel supplier. Metals USA and its shared network of inventory and processing capabilities located at strategic locations across the country can assist your project anywhere necessary. Please contact one of our sales representatives to see how we can help you with your next job.











Locations
Click a location listed below the map for contact information.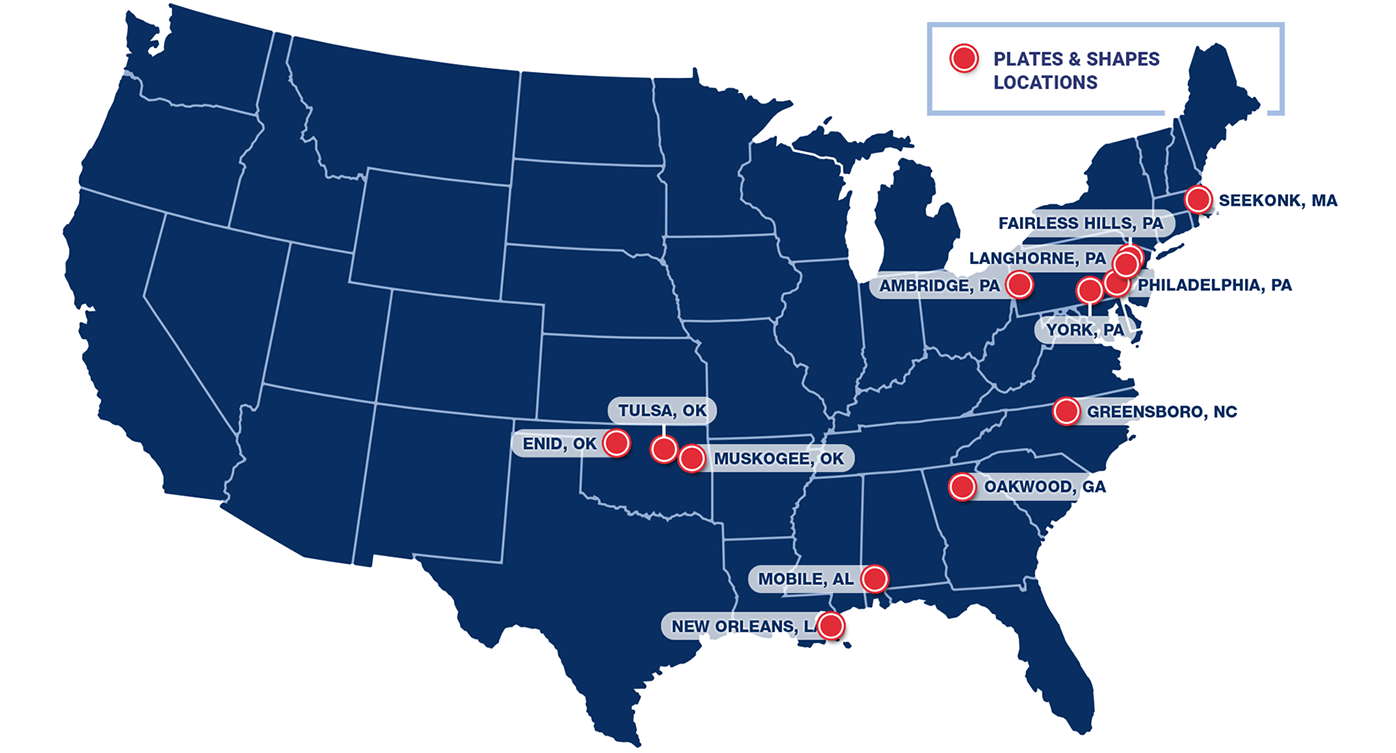 Need More Information?
Our expert professionals will show you how we can partner with your organization to get better results. Tell us about your opportunity and let us show you how we Exceed Expectations.