Metals USA is a leading steel service center that stocks carbon steel and galvanized pipe in a variety of diameters, wall thicknesses, and lengths. From A500 structural steel pipe to grades A53 and A847, we can source and supply whatever structural steel products are needed for the project. Whether the specs require galvanized pipe, pipe for pipe bollards, carbon steel pipe, structural steel pipe, (galvanized) carbon steel pipe, schedule 40 and 80 (galvanized) steel pipe, or A500 pipe, Metals USA are the carbon and structural steel pipe distributors you can rely on for your ongoing projects.
Metals USA supplies their customers with both seamless and welded pipe in a variety of industry standard metals.
Steel Pipe Products
CARBON STEEL PIPE is a steel alloy made with carbon and iron. It is built to specific chemical composition and mechanical strength standards for use in many types of heavy manufacturing and construction projects due to its exceptional strength and durability. Metals USA carries a robust inventory of carbon steel pipe in a variety of sizes and several ASTM grades.
GALVANIZED PIPE is widely used in applications where corrosion resistance is a critical factor. Galvanization is a process of coating steel with a protective layer of zinc. Galvanized carbon steel pipe is the preferred choice for applications where durability, strength, and corrosion resistance are important criteria.
PIPE BOLLARDS are widely used for pedestrian safety from vehicles and come in standard lengths for efficient installation. Metals USA carries pipe bollard material in stock lengths or can saw cut the material to any length and offers bare or galvanized finishes.
SCHEDULE is the term used by the American National Standards Institute to describe pipe wall thickness, and schedule 40 and 80 steel pipe refers to the specific thickness of these products. ANSI classifies wall pipe thicknesses into Schedule 10, Schedule 40, Schedule 80, and Schedule 160 specifications.
Used in many types of construction projects, Schedule 40 pipes are generally employed as the standard weight thickness, and pipes with a Schedule 80 thickness provide extra strength. While the steel alloy used for making Schedule 40 and Schedule 80 are identical, Schedule 80 pipes have a thicker wall than Schedule 40 pipes.
ASTM A500 PIPE is produced using flat-rolled steel, the structural pipe is formed through a roller system and welded using electric-resistance welding. Longitudinal butt joints of welded tubing are welded across its thickness to assure structural design strength.
ASTM A53 pipe is manufactured according to ASTM specifications A53 Type E. Grade A and Grade B are often the preferred choice for industries with pressure applications and conveying gas, vapor, water, or other liquids.
ASTM A847 PIPE is typically left unpainted. The surface will develop a protective layer of rust over time that inhibits further corrosion. The added strength of A847 steel allows for a lighter wall thickness than what would be needed for A500 carbon steel tubing to meet the specified structural requirements.
Wherever your projects are located, Metals USA has a steel service center near you. We maintain an extensive network of 26 steel service centers in 15 states , all located in strategic manufacturing hubs across the US. Metals USA delivers its extensive inventory of structural steel products from any of our steel distributors directly to you when you need it.
If you need structural steel pipe, Metals USA is your best choice for a reliable steel supplier. Metals USA and its shared network of inventory and processing capabilities located at strategic locations across the country can assist your project anywhere necessary. Please contact one of our sales representatives to see how we can help you with your next job.











Locations
Click a location listed below the map for contact information.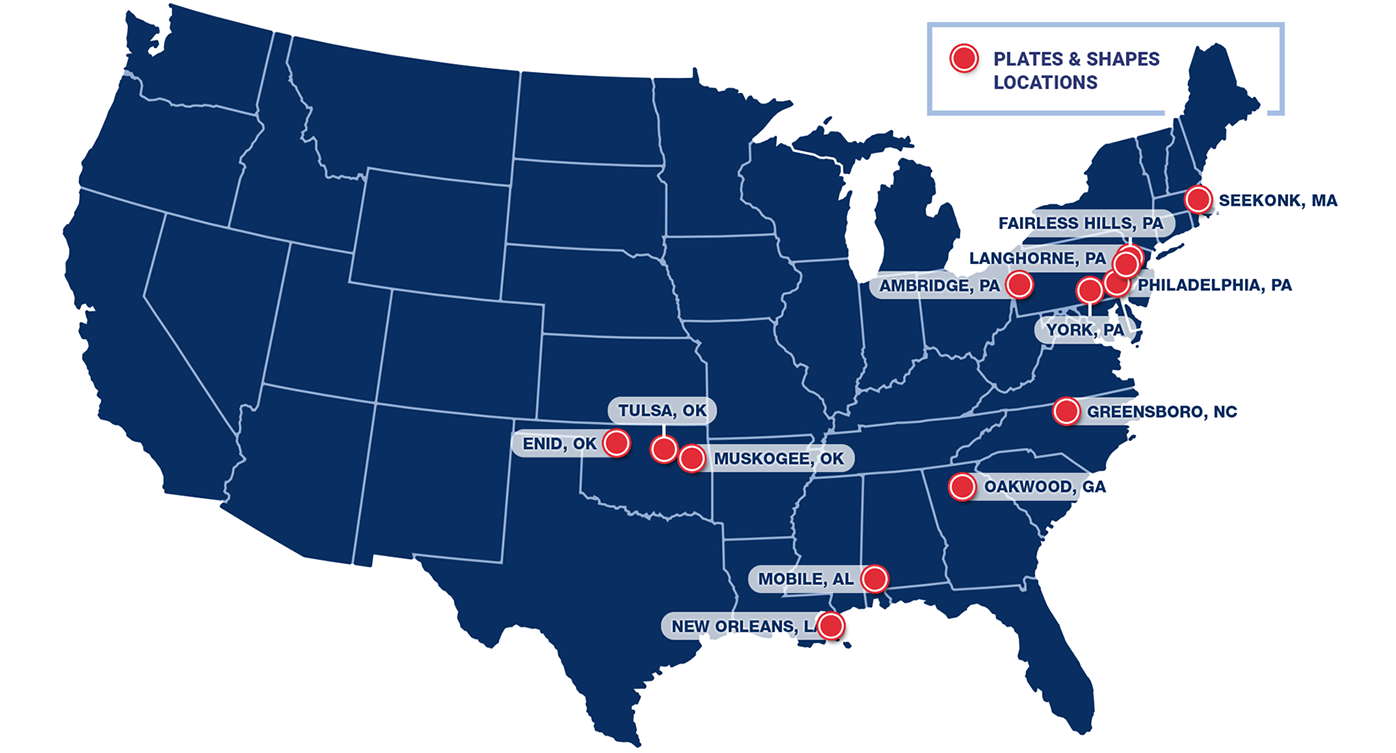 Need More Information?
Our expert professionals will show you how we can partner with your organization to get better results. Tell us about your opportunity and let us show you how we Exceed Expectations.